January Sale Now On
Is your marketing material ready for 2017?
In order to win sales you need to ensure that you reach clients and potential clients in various ways and then repeat all over again … and again! So of course you should try and employ some of the following – direct mail, telephone calls, eshots, mail drops, vouchers, networking and exhibitions to name but a few, and realise that it is the collective effect that will persuade clients to buy from you.
To help you, our prices have been significantly reduced since last year and in our January 2017 sale, we can help you save even more! Call us on 01392 797400 or pop in – let's make a date to plan your marketing together.
SAVE and REPEAT with up to 69% off business cards, up to £50 off our fabulous Suede folders and £132 off our Curve fabric displays (fabric and graphic price). Take a look at our SALE prices; we love to help Exeter businesses with all things printing, graphic design, exhibitions and web design, and indeed businesses all across our wonderful County of Devon.
Hope to see you soon to SAVE and REPEAT!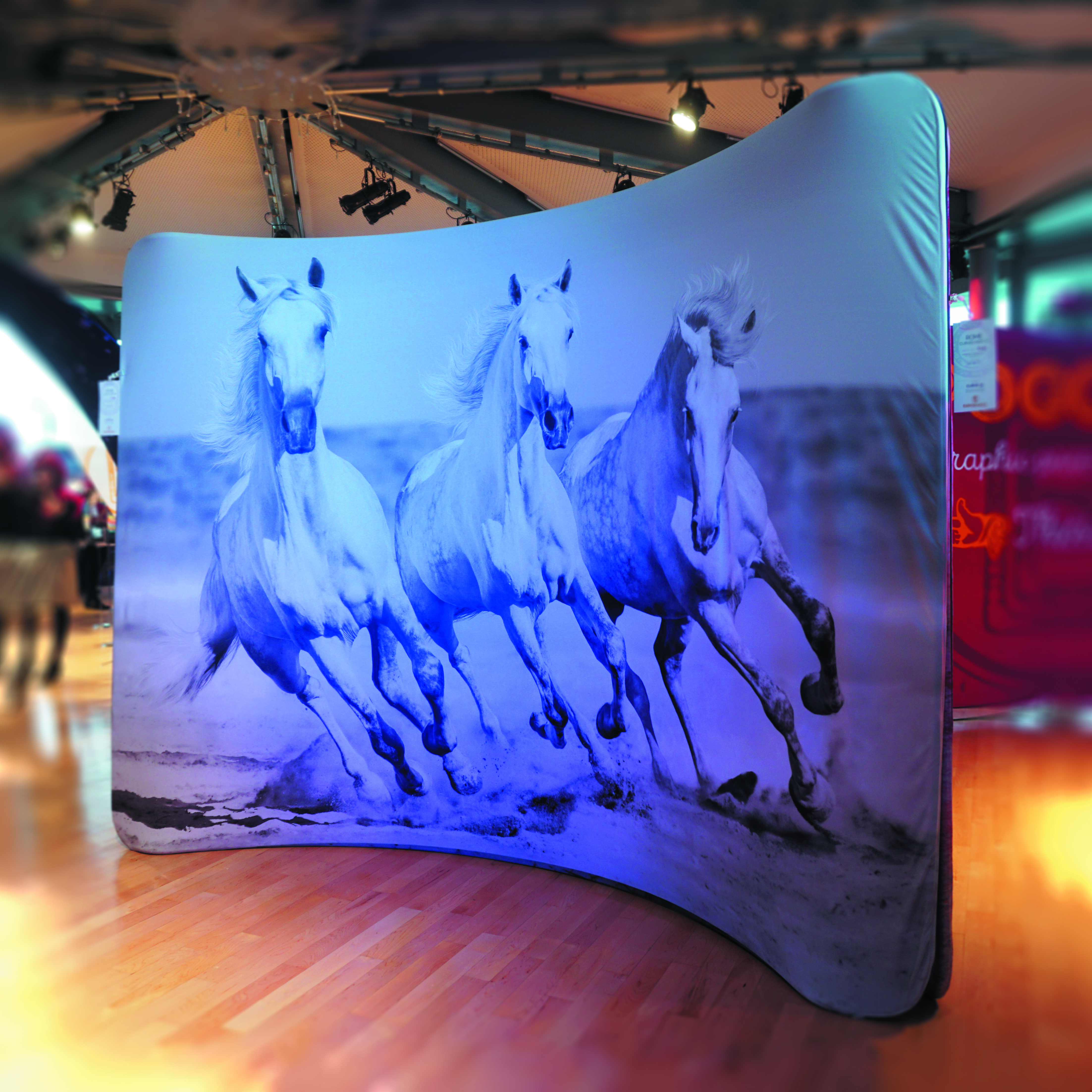 Last week of July SALE
Here we are at the end of July and we are delighted that so many local Exeter businesses and indeed all over Devon, plus as far afield as Edinburgh, have been taking advantage of our fantastic reductions on our most popular printing.
We have always got lots of ideas of new ways to promote yourself with our very impressive 660gsm business cards for example or our superb soft touch Grand Suede Folders, plus our curved fabric displays have £100 off during July 2016. Pop in to our studio to take a look at these outstanding double sided displays, they are extremely impressive!
Have you got one of our FREE marketing and print ideas Look Books yet? Give us a call on 01392 797400 or pop in to the studio for your own personal copy. We look forward to seeing you soon.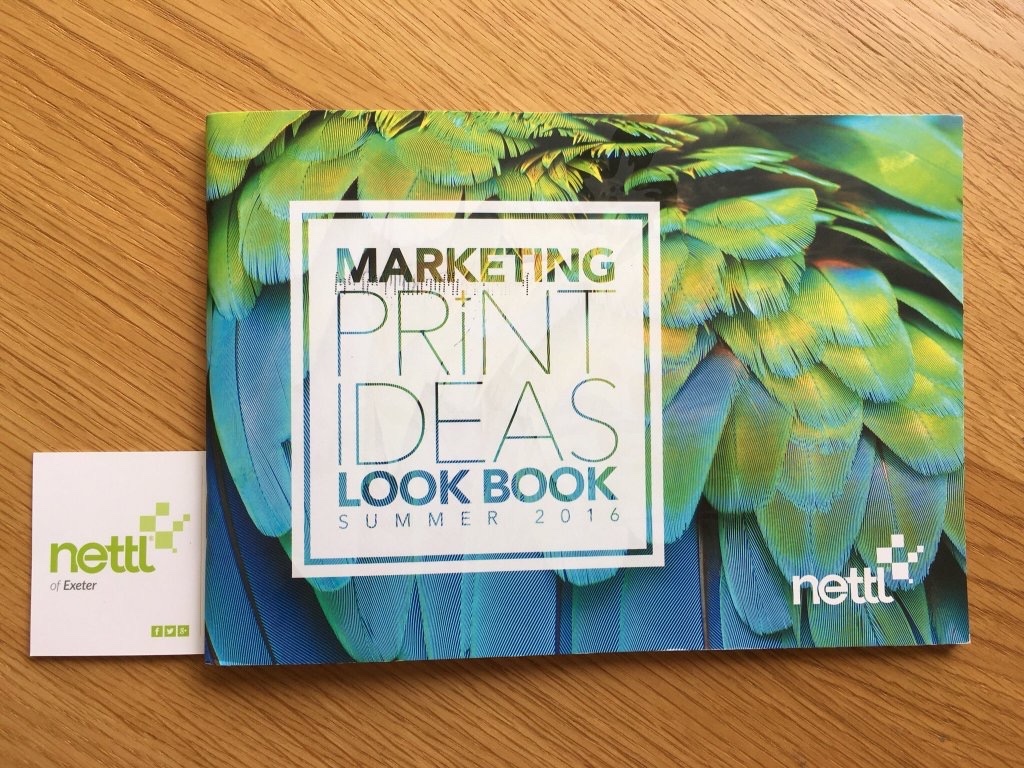 Devon Exhibition Tips
Exhibition season is upon us here in the South West and we are excited that many of our local clients are ordering a variety of posters, banners and leaflets ready for the Devon Business Expo, Exeter Food Festival, Devon County Show and the Devon Business Show. Make sure you're organised well in advance and remember it's not just what you say, it's how you look too when you're saying it. Emphasise your message consistently across your stand and have a trial mock up back at the office first to give you a feel for how it will look on the day. Beware of buying irrelevant giveaways, invest your budget wisely and brief your stand team beforehand to be active and welcoming.
We are thrilled to offer our fabulous new fabric printed range to exhibitors, which create enormous, eye-catching displays without the eye-watering price tag! The strong 'click together' aluminium frame has a 'stretch' fabric cover printed on both sides which fits snugly over the frame, secured by a zip. They really do stand out, creating maximum impact and eliminate the problem of visible join lines on larger displays. Pop in to our studio to see our pop-up stands for yourself. We love them and know you will too.
http://www.devonbusinessexpo.co.uk
http://www.exeterfoodanddrinkfestival.co.uk
http://www.devoncountyshow.co.uk
http://www.devonchamber.co.uk/DevonBusinessShow/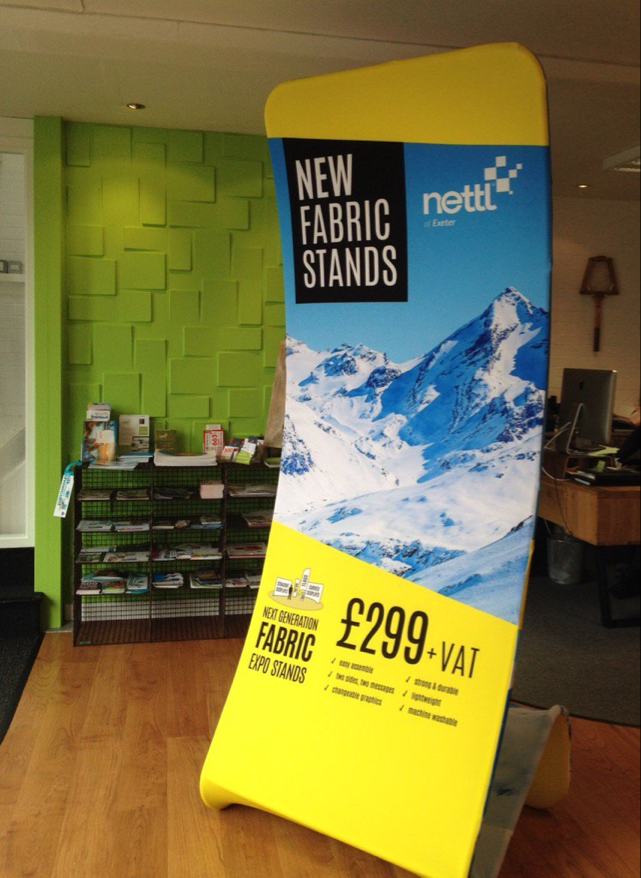 Tips for designing leaflets
Here in our Exeter design studio, we see a lot of leaflets and know what works and what doesn't.  Use these tips to make sure your message is getting across to old customers and new prospects.
Write your headline like a newspaper – keep it crisp and clear.
Position the headline at the top so it doesn't get hidden when in a display rack.
A big striking image is eye-catching and we have millions for you to choose from.
Put your logo at the bottom; do not be tempted to stick it at the top.
Use a time bound offer or a discount voucher to motivate people to respond.
Expand on the offer on the back with some suitably worded text.
Tell them what to do next. Call, email or order online. Do not assume they know!
Use our Premium Gloss Leaflets, which have been permanently reduced in price to make the most of your marketing spend.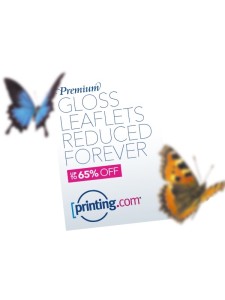 It's not too late!
There's still time to order some fabulous Christmas cards from us and catch the Royal Mail's recommended last posting dates, which this year are Saturday 19 December for 2nd class and Monday 21 December for 1st class. Better still why not deliver them by hand to clients, a good opportunity for a catch up and to remind them that they are genuinely valued.
Christmas cards truly do say thank you to customers and ensure you're remembered in the New Year. Add a voucher or an offer inside, as clients like to be rewarded for their loyalty. Be different; add a team photo, news of changes coming or your chosen charity's logo to show you care. The first Christmas card was actually invented by civil servant, Sir Henry Cole in 1843, over 170 years ago and long may they continue. Cards are like a gift in themselves, far outweighing any blanket message on Instagram!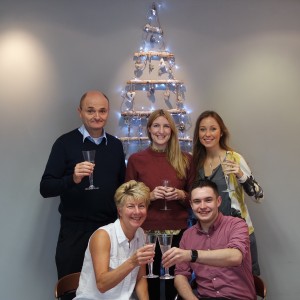 What makes a logo memorable?
Well of course it's all go here in our Exeter design studio, helping our clients get ready for Christmas with e-shots, menus and flyers. Have you seen our fantastic October offers? For example our Edit & Go Christmas cards are half price! Perfect for Devon businesses to say thank you to customers and by including your logo and perhaps marketing message too, a great way to remind them of your values.
We were prompted of how a clear and simple logo stands out and is more memorable at the weekend, whilst visiting the amazing North Devon coastline cared for by the National Trust. Okay, so the oak leaves and acorns may not be the most inspiring design but instantly recognisable! That's what we try to do here by assisting clients with their brand, using a simple logo design with the right layout and form, building fully responsive websites, and designing and producing motivating marketing material. In other words we are a one-stop-shop for all local business needs.
Read more about what makes a logo memorable here http://www.siegelgale.com/what-attributes-make-a-logo-memorable/ and don't forget to support our own fantastic www.nationaltrust.org.uk/woolacombe-mortehoe-ilfracombe/.
Google's new logo
So why did Google suddenly introduce a brand new logo? Well the main reason for losing the serif typeface (the wiggly bits) is so that it pops out at you on your phones and handheld devices because that's where everyone looks nowadays, and of course on your desktop if you still use it…
Here in our Exeter studio we really like the confident, clean look with the capital G, primary colours and the cheeky, slightly rotated 'e' at the end. This new logo cannot be ignored and ultimately that's what our clients want from us when we help them out with their branding.
We have enjoyed supporting many Devon businesses with their logo designs over the years ranging from complex and corporate to simple and childlike with a vast array in between. Recently we have been delighted to work on projects for local Exeter businesses including an upmarket hair salon, a high-end recruitment company and a vibrant climbing company to name but a few.
Our goal is to create an effective and memorable expression of your brand so please pop in for a chat if you would like some advice and assistance with your logo design. We look forward to seeing you soon.
Ideas for Die Cuts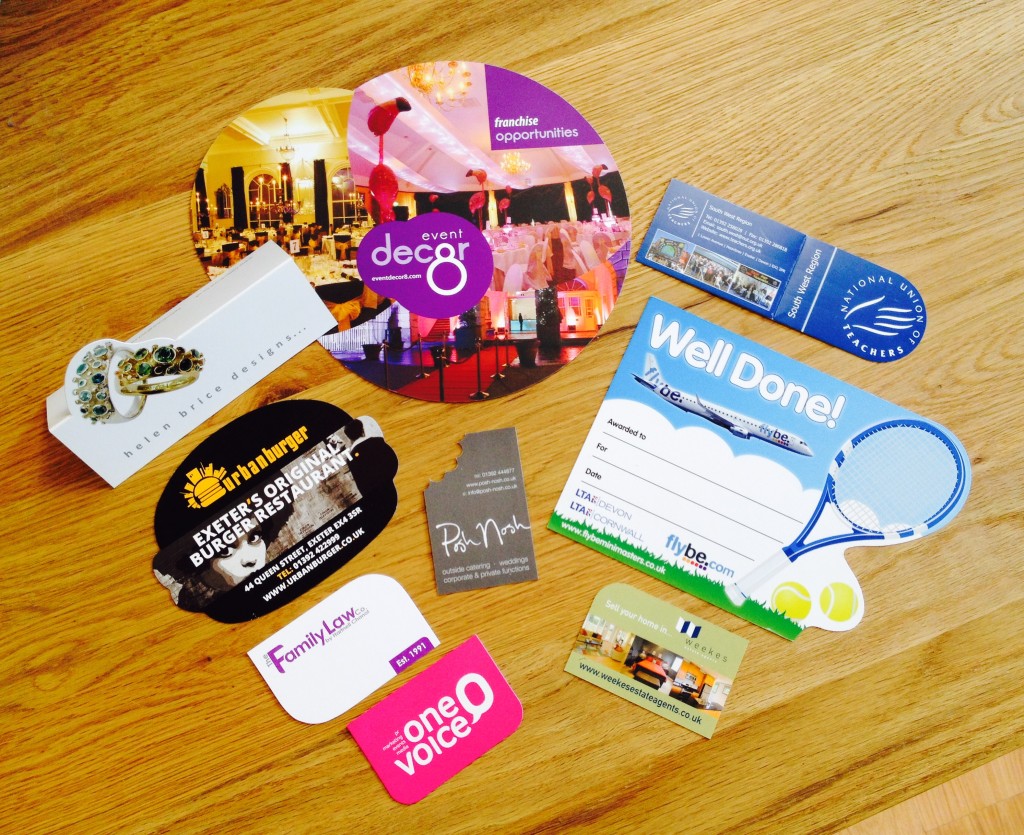 Die cuts really add something to your printed marketing material; they immediately catch the eye, add believability and most importantly get results. Spending a little bit more on well designed, shaped print is worth it, as it will increase your return on investment.
Custom die cuts such as those we have done for local Devon businesses look very stylish and are really memorable. So do you need ideas how to best utilize a shape? Well, why not try a food shape, an outline of your product, an animal, a punched out logo, a classy rounded corner or two as we have done for several Exeter businesses. Perhaps you would like an asymmetric design, why not give us a call and ask us for graphic design ideas for our shaped cards which are on offer this month.
Be sensational or subtle but most importantly attract attention and earn new business, die cuts are more affordable than you may think. View them as an investment not an expense!
Increase your ROI
Well April just flew by and here we are in May and what a start to the month it has been with the general election results just being finalised. The financial markets' reaction has been positive and the sense of uncertainty in the air is fading rapidly which means that now is a good time to refresh your marketing plan.
OK, so you have a website (or at least we hope you do) but following up any leads generated from this with something physical like a printed booklet, or sending out a quarterly newsletter in the post, as well as your monthly eshots is a great idea and helps to increase your return on investment. There really is less competition using snail mail as opposed to overflowing inboxes.
Keep your customers coming back for more by combining online and offline activities and never forget the value of meeting someone face to face or the simple act of picking up the phone. In the studio we are passionate believers in the importance of building human relationships.
PS If you need assistance with your website give us a call here at Printing.comExeter/Nettl of Exeter, we would love to help. 01392 495133
Good Design is Good Business, Thomas J Watson, IBM 1973
Well although this is quite an old quotation, we feel it is so important because as you know you never get a second chance to make a first impression.
IBM's views on design have impacted hugely over the decades since the 70s when Watson Jr became CEO and decided to put his signature on the organisation through modern design. In order for any company to showcase their brand and values, it is essential that they embrace design whether that is inside Exeter's Apple store or in a pub on Plymouth's Barbican.
People do judge you, if you present yourself well, they will trust you. If your marketing looks amateurish, you'll turn them off. Don't miss out on valuable opportunities by putting potential customers off.
Good design shows that you care, you care about your business and therefore you will care about your customers. Invest in some outstanding graphic design to actively engage potential customers. Our March offers include sumptuous Starmarque and luxurious Opuleaf showcards and business cards.
Call us now on 01392 495133 for glorious graphic design and premier print in Devon.
Get noticed!